Building Department
On January 18th, 2017 the Village of Orland Hills Board of Trustees adopted Ordinance #2017-002 amending the Code of Ordinances of the Village of Orland HIlls. Included in this Ordinance is the adoption fo the following codes:
2015 International Residential Code
2015 International Building Code
2015 International Mechanical Code
2015 International Fire Code
2015 International Energy Conservation Code
2015 International Performance Code
2015 International Property Maintenance Code
2015 International Existing Building Code
Illinois Plumbing Code: Latest Edition adopted by the State of Illinois
Illinois Accessibility Code & ADA: Latest Edition Adopted by State of Illinois
The above Building Codes will take effect on all permits submitted starting on February 1, 2017. We will work with you and your employees to make this a smooth transition. A copy of this ordinance wll be made available to you upon request.
Feel free to call the Village if you have any questions: (708) 349-4887
The weather outside is still pleasant but winter is just around the corner. While you are enjoying yourself outside or inside, please take advantage of the mild weather to do some routine maintenance and to keep your home safe. Here are some tips that could help.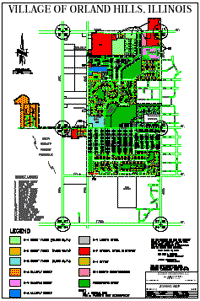 The Orland Hills Zoning Map is a 342 Kb Adobe Acrobat Reader PDF file.
pdf View the Orland Hills Zoning Map here. (342 KB)